Listen
Published on November 3rd, 2013 | by Alex Smith
1
Rappermania: Eastern Conference Week 1
Recently NME compiled a list of the top 500 albums of all time, but unfortunately it didn't answer many of the questions we have here at the Yarn. Not only was the countdown dominated by white men who play guitar, but it also didn't settle whether David Bowie could beat Patty Smith in a fistfight, or whether Arcade Fire would win in a tag-team match against Nick Cave. I know, right? Ridi-a-less.
So Kristian and I decided to fill this void by combining 3 of our greatest loves; rapping, wrestling, and basketball. Welcome, ladies and gentlemen, to Rappermania!
The rules are simple; every week we will use NBA-style brackets where your favourite wordsmiths will battle it out (often to the death) for a chance to progress and take home the belt. Lets hand you over to our commentators!
Week 1
Alex: Welcome everyone to the inaugural Rappermania! I'll be your host this evening, and with me is hip-hop personality and former WNBA mascot, Kristian.
Kristian: First up on tonight's card, its Jay Z and Soulja Boi!
Jay Z v Soulja Boi
Alex: And we're into it! Straight away Hova tags in Beyonce for a fairer fight. Soulja Boi attempts to 'superman' her, but he's forgotten that she's not a hoe.
Kristian: Rookie manoeuvre!
Alex: Soulja Boi writes, records, produces and performs a truly horrendous track on the spot in an attempt to make Beyonce take her own life. Beyonce slaps Soulja Boi so hard with that weird robot-hand thing that he falls out of the ring unconscious. Beyonce wins by count-out.
Kristian: Beyonce wants a soldier, not a Soulja! Get that trash outta here!
Wu-Tang Clan v Rick Ross
Alex: A classic matchup between two contrasting styles; one a respected and beloved visionary and the other being Rick Ross. It might be 8 versus 1 in the ring, but Rick Ross weighs in the same.
Kristian: Burn.
Alex: In a gutsy move – pun intended – Rick Ross goes for his finisher 'the Miami Hustler' right away! Raekwon counters with a moonsault, while RZA and U-God start the ground-n-pound assault. Eventually Ghostface Killah rips out Ross' heart and holds it aloft to the adulation of the crowd.
Kristian: Just like Bekky Timms did to me in year 8. I still love you Brekky! We could have been something!
Kanye West v LL Cool J
Alex: While Cool J stays on the ground doing sit-ups, West climbs to the top rope so that he is the tallest man in the arena.
Kristian: What a genius!
Alex: Yeezy then dives off the top rope, unleashing his signature move – the super-sonic 'HAGH!' noise! It rings throughout the arena!
Kristian: He's a visionary! Somebody put on Golddigger!
Alex: LL Cool J just stands there, bemused. 'Ye' reminds him that he's a God. LL Cool J picks up a steel chair bludgeons him to death.
Kristian: Wake up, Mr West!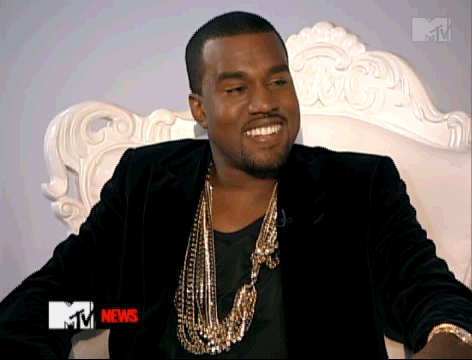 Ludacris v DMX
Alex: In an attempt to throw off his opponent, Ludacris attempts to lick-lick-lick-lick DMX from his head to his toes. X gives it to him, shattering his skull in 4 places.
Kristian: If this were an acting competition, everyone here would be the loser.
 A$AP Rocky vs Eminem
Alex: Eminem comes out with a typically furious flurry of punches, while A$AP dopily meanders around the ring smoking a joint. Eminem is really going berserk here, getting on top of the younger, less experienced A$AP. But what's this?! A$AP has called Mariah Carey into the ring! What a turn of events. Em is stumbling around crying – his palms are sweaty!
Kristian: Hey Alex, try this bowl of my mum's spaghetti-
Alex: Eminem sparks a stunning Recovery by calling in Aesop Rock, who beings babbling incoherently about nothing in particular. A$AP is confused. He's hurting himself in his confusion. He goes down – he's having an existential crisis! Eminem wins!!
Outkast vs Kid Cudi
Alex: This looked like a slaughter on paper, but unlike Hopsin, Outkast know that a fight can't be won on paper. Cudi comes out firing on Big Boi with some great combos, but is now really struggling to back it up! He calls in a hoard of Jansport models who flock to his side, throwing bottles of PBR and 'deep' Immortal Technique lines at the Atlanta duo. Meanwhile Andre 3K lurks in the corner, charging up his flow meter.
Kristian: Where are we with Golddigger…?
Alex: And here comes Andre, aiming straight at Cudi! BAH GAWD KB, THAT MAN HAS A FAMILY! Down goes Cudi! Now he's climbing to the top rope- he isn't going to do it is he?! Here come the Bombs Onto Backpacks! Everyone's down! Outkast win! Outkast win!
Lupe Fiasco vs R Kelly
Alex: Lupe struts out to R Kelly with an upside-down American flag and an air of smug self-assuredness. Bringing out his Great American Political Sermon, he's lecturing R Kelly on race relations, political misinformation and the corporatisation of America. R Kelly is stunned! But what's this? He's stopped in his tracks. R Kelly appears to have realised that Lasers exists!! He climbs the top rope! Lupe is so absorbed in his own shit that he doesn't even know what's happening! And – and – he's pissing on him! R KELLY IS PISSING ON LUPE!! Lupe goes down! He hasn't been pissed on this hard since Atlantic Records pissed on him for the best part of two years! He can't take it! It's over!
Kristian: At least Lupe isn't 15. Silver linings, right?
Ja Rule vs Drake
Alex: Ja Rule is walking down to the ring with real purpose.
Kristian: He's always on time.
Alex: Probably wants to prove that he still exists.
Kristian: Someone tell Dave Chappelle!
Alex: And here comes Drake! Wait- that's not Drake- it's wheelchair Jimmy! The comeback kid is in the building! Helped into the ring by Ellen Degeneres and the cast of Degrassi, Jimmy tries to drum up the fans with his inoffensive, Canadian charm. Ja turns away in confusion- he can't hit a kid in a wheelchair, no matter how much more relevant such an act would make him. Oh no Ja, that's exactly what he wanted! The cast of Degrassi are pummeling a defenceless Ja, pulling him limb from limb! OH GOD STOP! HIS CAREER'S ALREADY DEAD!
Kristian: It appears that they're feasting on his innards and taking Ja's rodent-like face as a trophy!
Alex: He'll be livin' it up no longer. RIP Ja.
See you next week for the Western Conference top 16!